'Kingmaker' has always been a familiar name, one that I have heard since my schooling days in Dunman High School. It was therefore a great delight for me to find out that I had gained an internship opportunity at Kingmaker—where I could gain exposure to the education sector and the different job roles available in the organisation.
At the start of the internship, I was more involved in logistics preparation and shadowing my colleagues during training workshops as a facilitator, learning the ropes along the way. With my fellow intern buddy, we had the chance to visit several schools - from primary schools to junior colleges - and stepped out of our comfort zones to run a workshop by ourselves. Under the guidance of my mentors, we were each able to engage a class independently by the end of the internship, which allowed us to gain a full experience of working on the 'front line'.
Other than multiple training experiences, Kingmaker had also given me the opportunity to endeavour in the field of Researching & Development as well as Digital Marketing. My fellow intern and I worked on a new module 'Social Media: Healthy Use & Mental Health', which allowed us to discover the thought processes behind module planning as well as the preparation of lesson materials. Being interested in marketing, I volunteered to be actively involved in the outreach process, such as creating promotional materials for our programme offerings.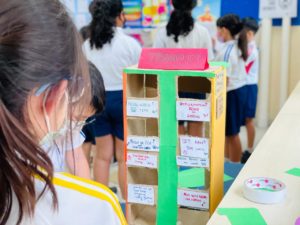 Other than the skills that Kingmaker had imparted me with, another key feature of what makes Kingmaker is the "workfam" here. The Kingmaker family welcomes new members with sincerity, nurturing the interns with ample guidance and numerous opportunities. My colleagues are both mentors and friends to me - they are people whom I can always feel comfortable to voice out my opinions and doubts, and the people that I go to for guidance on further studies, life decisions, and many more.
For students who have just finished their A Levels and have a passion for impacting youths' lives, Kingmaker would be a great place for you to learn and grow while waiting for university to start! From training to marketing and R&D, you would gain an enriching & wholesome experience here. Being so actively involved in different aspects of a business, you would definitely be able to gain valuable skills and knowledge that are transferrable to your young adulthood —who knows, you might even discover a new passion as well!
Thank you, Kingmaker, for the fulfilling 6 months of internship—it has been a wonderful and unforgettable journey with the family, and I look forward to continuing with you on future projects!
For those who are considering an internship with Kingmaker, I am excited for you for the meaningful journey that you will soon embark on!