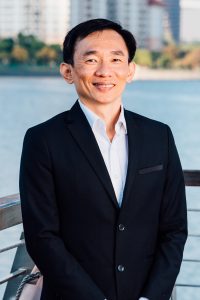 Poh Yeang Cherng
DIRECTOR | PRINCIPAL CONSULTANT
Mr Poh Yeang Cherng is Director and Principal Consultant at Amplitude Consulting Pte. Ltd. He has a Masters of Mass Communication and is a Gallup® Certified Strengths Coach. He accrued professional and management experience across multinational companies, non-profit and faith-based organisations, as well as small enterprises. Yeang Cherng also built and led a team in the non-profit sector to attain Singapore's highest accolade (for Youth) - 'enriching the hearts & souls of the community & bringing distinction to the nation'.
Qualifications & Certifications
Master of Mass Communication

Advanced Certificate in Training & Assessment

Gallup-certified Strengths Coach

Certified People Acuity® Coach
Media & Communications
Pioneer of Singapore's Cyber Wellness Movement

Practitioner-Researcher for Intervention Programmes
Iowa State Media Literacy Conference (2017)

Singapore Media Forum 2016

ASEAN Paediatric Federation Congress 2014

Media Sense & Sensibility Seminar (Kingmaker Consultancy Pte. Ltd., 2012, 2014)

3

rd

Lam Woo Distinguished Social Work Awards & Seminar (Engaging the Family: The Development of Family Social Work in China 闔府統請: 家庭社會工作的發展與前瞻) (2014, Peking University)

Beacon Primary: 6

th

, 7

th

, 8

th

, 9

th

Parents' Conference (2013 to 2016)

DECODE Conference (Fei Yue Community Services, 2014)

Professional Development for Cyber Wellness & Media Literacy (East Zone Center of Excellence 2014 & 2016)

West 6 Cluster Research Seminar & Professional Development for Educators (2012)

20th Asian Media Information and Communication Centre (AMIC) Annual Conference (2011)

Digital Literacy Symposium (CIVICA, 2011)

Asian Festival of Children's Content (Singapore Book Council, 2011, 2012)

1st Asia Pacific Behavioural and AddictionMedicine Conference (2010)

Civics and Moral Education Conference (Ministry of Education, 2010)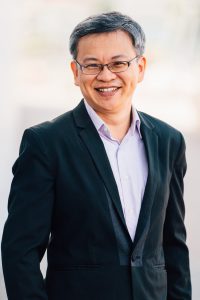 Tan Hee Guan
DIRECTOR | PRINCIPAL CONSULTANT
Mr Tan Hee Guan, a PSC scholar, is Director & Principal Consultant at Kingmaker Leadership Institute. Hee Guan built his leadership foundation as an officer in the Boys' Brigade. As a chaplain, he catalysed the birth of more than 10 Boys' & Girls' Brigade companies. Hee Guan also conducted leadership development for more than 3000 university scholars between 2003 and 2009, specialising in cultural transformation on university campuses.
Qualifications & Certifications
Post Graduate Diploma in Education

Advanced Certificate in Training & Assessment
Media & Communications
Master Trainer for Cyber Wellness Experiential Learning

Master Trainer for Cyber Wellness Ambassadors since 2003
Cyber Wellness Personal Mastery programmes for ACS Barker, Bowen Secondary, River Valley High School, Dunman High School, Bartley Secondary School & Others

Master Trainer for Cyber Wellness, Leadership and Character Development programmes at Juvenile Homes

Master Trainer for multiple Cyber Wellness Carnival programmes at more than 40 Singapore schools

Intervention Programmes

Programme Director for at-risk work

Master Trainer for Juvenile Homes programmes (2013 to 2016)

Curriculum Developer & Master Trainer for Time Out Programmes, Experiential Learning and Service Learning

MANAGER | ADMINISTRATION AND OPERATIONS
Wong Yueh Ping
Ms Wong Yueh Ping is a manager and training consultant with Kingmaker Consultancy Pte. Ltd. She is a certified StrengthsTransform Career Advisor and uses Gallup tools such as StrengthsFinder & Q12 to coach managers for employee engagement. She is also an accomplished trainer with more than 15 years of corporate experience. She is a Facilitator for Foundation of Organisation Learning and also conducts regular workshops for Quality Assurance.

TALENT AND PARTNERSHIP DEVELOPMENT
Chow Kia Meng
Mr Chow Kia Meng is the former Head of Admissions & International Students of Raffles Institution. This wealth of experience includes pioneering and starting up an award-winning Raffles Institution Boarding School. He is an Education honours graduate from Loughborough University, United Kingdom. For more than 30 years, Kia Meng has taught, coached and mentored over thousands of local and international students under his care. He has taught Character and Leadership Education for many years and has trained many generations of youths in leadership training camps.

PRINCIPAL TRAINER                                            LEAD INSTRUCTIONAL DESIGNER
Lee Xiao En Grace
Ms Grace Lee is a sought-after coach & trainer among Singapore schools, excelling equally in corporate training. She is a certified StrengthsTransform™ Youth Developer and a registered trainer with the Ministry of Education (MOE) and Ministry of Social & Family Development (MSF). Grace has trained more than 1200 youths and adults using StrengthsFinder & StrengthsExplorer in the past two years, and was the Master Trainer for the 1
st

ASEAN Strengths Education Summit student track.

LEAD PROGRAMME MANAGER                                DATA ANALYTICS SPECIALIST
Sia Keqin
Mr Sia Keqin is a Gallup-Certified Educator (Instructor in Strengths-Based Education) and StrengthsTransform™ Youth Developer with Kingmaker Leadership. Keqin has trained more than 300 youths and adults in in the past 2 years, and specialises in using StrengthsFinder for Intervention with at-risk youth.

PROGRAMME MANAGER                              EXPERIENTIAL LEARNING DIRECTOR
Loh Wen Wei
Mr Loh Wen Wei is highly engaging speaker and trainer, recognised for his ability to engage participants through creative pedagogy and a genuine, ground-up approach. Wen Wei also excels in the design & conduct of experiential activities to facilitate learning for both Professionals & Youths.

MANAGER | OUTREACH & SOLUTIONS
Jasmine Khoo
Ms Jasmine Khoo is a programme consultant with Kingmaker Consultancy Pte Ltd. She is a certified StrengthsTransform™ Youth Developer with Kingmaker Leadership. She has over 4 years of mentoring and facilitating Leadership and Communication Workshops and Freshman Orientation Camps for secondary and tertiary students.

SENIOR SALES CONSULTANT
Shawn Wong
Mr Shawn Wong is a Senior Sales Consultant for schools & corporations with Kingmaker Consultancy Pte. Ltd. He has more than five years experience consulting with organisations on people-development programmes, with the past 2 years focusing on strengths-based development.

ADVOCACY PROGRAMME MANAGER                LEAD DESIGNER
Linda Goh
Ms Linda Goh has 7 years' experience working with youth through personal coaching, national youth events and overseas expeditions. Linda customises her approach to meeting differentiated students' learning needs, and is a trainer who believes in helping weaker students who may fall behind in the system.